Hoo boy.  My life is a lot like Bridesmaids.  Maybe a bit too close for comfort.
I traveled to Green Bay to see my sister Friday night.  I needed some family time, and it was nice to be able to take a breath and relax.  After dinner (and a few glasses of wine) we started up Bridesmaids.  Early on in our viewing, I started tweeting some of my favorite quotes, of which there are plenty.
After a few tweets, I realized that there are many eerie similarities to Annie's life and mine.  While I have not defecated in my pants due to a Brazilian meal (or any meal for that matter…) I feel as though you can interchange Annie's life and mine at this point.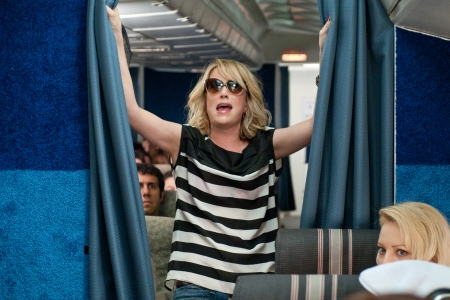 1.  Annie's tailight is out, and she gets pulled over for it.
I am honestly very ashamed to state that my vehicle is worse for the wear at this point.  My headlight is out (and has been for the past six or so weeks), I have a huge crack throughout half of my windshield.  I am missing a hubcap.  (Consequently, Annie is missing all four!)  The only benefit that my car has over hers is that mine looks a bit newer, however, the rust spots on my car may be what makes me lose the battle.
(Since writing this, I have since fixed my headlight!)
2.  Annie is working a retail job, when in all reality she would love to be doing something different.
While I do love my part-time retail job, I know that I am not utilizing all of the strengths I possess, nor am I utilizing much of my education.  In the same vein, Annie is working at the jewelry store on a favor from her mother.  It's not what she wants to be doing, she is not doing anything she is passionate about, and it shows in her job.  Luckily, I do enjoy my job.  I love going into work each day, and I definitely could sell some engagement rings or friendship necklaces if I had the chance.  I just may not possess the "love is eternal face" like Kahlua.
3.  Talking about tennis: "Uh, yeah.  I played a little in high school."
Freshman and sophomore year, baby.
4.  Annie's writes in her "sad, very personal book."
Although I blog frequently, I also write for my own personal pleasure in various notebooks and journals.
5.  Annie screams, "Help me, I'm poor!" while on the airplane, trying to get into first class.
While I only fly coach and I haven't been in a plane in over a year, I'm so tempted to be whining that statement in a British accent any day now.
6.  Annie moves home.
My lease in Madison ends on August 14.  Beyond that date, I have no plans.  None.  At all. I am very close (I mean really close) to be heading home and living with my parents once again.  Am I bit ashamed?  Of course.  But, I am not above having my family love me and help me out if needed.
This past year has been full of challenges.  I have failed.  I have put my all into my passions and projects and fell flat on my face.  I lost friends.  I made very stupid mistakes.  I have had more than one "woe is me" conversations to myself while driving home.  I was also a bridesmaid in an epically awesome wedding.  There are many similarities with Annie's life and mine, but the biggest is the one that is most important…
…at no point, did Annie or I give up.  Neither of us surrendered completely.  There may have been times when we've both had our own personal pity parties, we've both ate cupcakes as big as our faces, and had some awkward situations.  However, neither of us gave up.  One of my favorite quotes from the movie is actually a serious one.  Rhodes, the cop, says to Annie about her failed venture of Cake Baby: "Just because you didn't make any money on it doesn't mean you failed."  I feel that way about summer of 2012.  I haven't made much money this summer, but I haven't failed.  I'm not failing because I am visiting my parents for a few days.  I'm not failing because I didn't get the dream job after graduation.  I'm not failing because I don't have every little thing figured out in life.  In fact, even though it seems odd, I feel as though I am thriving in life.  I am experiencing some crazy life experiences that I would not be able to accomplish if I had been living the status quo.  All in all, I am learning.  I am growing.  As Annie says, "We stay the same, but we grow a little bit."  And all I really know is that I have grown more than a little bit recently.